About Us
G. P. Perssa´m Ltd. is a knitwear production company based in Murcia, Spain, and we are fully committed to Spanish manufacturing, which is why all our garments are made in Spain. Our clothing is aimed mainly at women and available in a wide range of sizes, from S to XXXL.
We boast a highly skilled team with over40 years' experience in women's knitwearmanufacturing. Our adaptability, quality and excellent customer service set us apart from the rest.
We are aware of our customers' needs, we are highly competitive in the Spanish and international markets (Portugal, France and Chile) andwe will soon be entering markets in other countries.
Our main task is to developcompletedgarments, which will later be sent to our clients, who are mainly wholesalers, distributors and retailers.
Background information
Our founding partners started in this sector in the early 1960s; new generations came later,bringing a successful mixture of youth and experience. Thanks to this, we have found the perfect ingredients for a company that operates at a high level in all our procedures.
Aim
Our target is to be world leaders in knitwear production. Thus, we work extremely hard to provide great service to all our clients, and we also give professional development opportunities to our partners and employees..
Our philosophy
We seek to satisfy our customers by:

Offering excellent products.
Developing a close relationship with them, to make sure we always meet their needs.
Constantly innovating and improving our production process.
Production process
We carry outthe whole production processas follows: First we carefully choose the yarn and the clothing design and we continue with the garment knitting, cutting, dressmaking,finishing –washing and drying if necessary– mending, ironing, labelling, packaging, storage and delivery.
Awards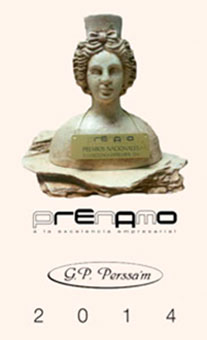 On 14th September 2014 Perssa'm received the Fashion and Entrepreneurial Excellence Award due to the quality and finishing touches of our garments. We were selected from 64 firms, of which 25 were nominated for this award and we werethe winners.
This award is a figure of Tanit, the goddess of love, fertility, life, prosperity and the moon, according toCarthaginian mythology. In addition, it is considered to be a lucky charmwhich brings good fortune to the holder. This award has been given for 29 editions and has become an increasingly popular event organised by the Prenamo Association.